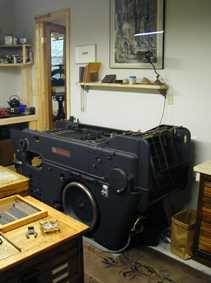 ATF "Little Giant" Model 6

An automated cylinder press. Prints between 2500 and 5000 impressions an hour with a maximum sheet size of 12 x 18 inches. This press was made around 1942.
Type cabinets underneath the guest loft in the press room. Though we have few type faces for use at Deep Wood, the one we do have and use we have plenty of.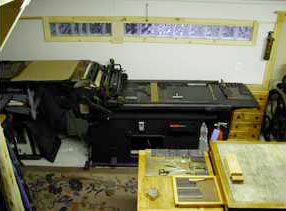 Vandercook 219

Cylinder press, hand fed, maximum sheet size 18 x 30 inches. This press was made in 1945 in Chicago.

Chandler and Price Pilot
Hand Press, chase size (inside)
6 1/2 x 10 inches
Addresograph Multigraph Corporation paper folder circa 1940.